Mad boys
I had taken up my position in the queue at about noon, a full two-and-a-half hours before the hearing began, and about 30-odd people back. The indefatigable Paul Waugh stood proudly at the front, packing away his tent like a crazed Royal Wedding fanatic.
The eloquent Socialist Worker lads and lasses kept morale up. It's rare to hear chants in Received Pronunciation, especially when the lyrics "Murdoch, Murdoch. What you gonna do? What you gonna do when they come for you?" are shoehorned into the rap song made famous by Will Smith's Bad Boys.
Pulses quickened when Jemima Kahn burst on to the scene. She is beautiful, and kind of breezed into the queue next to natural light starved hacks and the unwashed masses. Within seconds, the small throng of paparazzo awaiting Murdoch's arrival had jumped upon Ms Kahn. In the mini-scrum, a man in a hat came to take Jemima away. The one-time winner of the Rover People's Award for the best dressed female celebrity was escorted inside.
Some bloke then arrived with a huge Rupert Murdoch papier-mâché head on. He pranced around for a few minutes, right before Robert Peston demanded quiet so he could film his piece-to-camera. Even a nearby drill fell silent.
As Parliament's 10,000 police officers gradually let people in, it became apparent that only those at the very front of the queue would get inside the committee itself. That is unless you are Nick Robinson, who is far too important to stand in line.
Such was the strict admission policy for one of Westminster's smaller rooms, the overspill areas contained an odd mix of journalists, politicos and young people with carrier bags. And Jemima Kahn in Converse heels.
Shortly before the Murdoch boys entered the lion's den, Evan Harris and Lembit Opik arrived. They were both wearing odd yellow passes, which looked like they might have been 'lucky loser' handouts for rejected politicians.
Harris was just incredible. He pranced round the Bothroyd room, moving from chair to chair, at one point posing by a bust. Within seconds of clocking Kahn he was over there like a rash. She couldn't get away. Maybe Kahn thought it was Ed Miliband. Opik cut a slightly more forlorn figure. He obviously had nothing better to do.
Things were hotting up by now. Tom Watson gave Rupert Murdoch such a stern stare in the pre-fight fanfare, it was hard not to feel a bit Sky Sports about it all.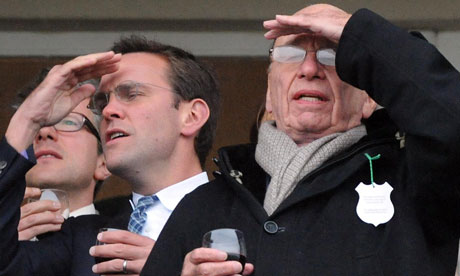 Sadly, the next two hours passed in a haze of James Murdoch management speak. We were informed with sincerity about financial quantum, 50,000 ethical NI professionals, tax compliance, company standards and whatever else Murdoch junior did not not have knowledge of.
Tom Watson was predictably the best in show. He was closely followed by renegade Tory backbencher Philip Davies, whose unique brand of off-spin found young Murdoch's outside edge. He confirmed that NI had paid legal fees for Glenn Mulcaire, and was duly snaffled in the slips by a legion of bored and hungry followers.
After nearly two hours of questioning, the father and son duo were largely holding firm. It was looking OK. Rupert Murdoch had banged the table in front of him about 60 times, and had eventually found some rhythm. Lines like "I wish they'd leave me alone", referring to British Prime Ministers, started to engender warm thoughts. Not for one fanatic.
Utter bedlam ensued. People walked out of the committee room with foam in their hair. One older lady asked me "has he been shot?" The TV screens merely showed a whirl of pink rage before play was suspended.
Dr Evan Harris stormed through a considerable throng of people to reach the committee room, desperately offering medical assistance. Everyone was fine. Apart from Lembit Opik, who was busy telling a foreign tourist off for taking a picture. "It's illegal on these premises, you know".
It was almost too good to be true for News International. Wendi became an overnight sensation, and Rupert looked like a decent bloke for carrying on after the attack.
At least we had a laugh though, eh?
bygones-luc likes this
charltonblogs posted this